If you want to improve your English speaking, you are at the right place. On this website, you will find lots of FREE lessons and tips on English learning to help you master spoken English easily.
Learn 100 common phrases
and sentence patterns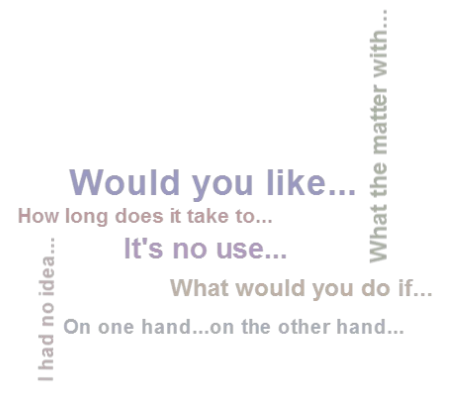 In order to speak English well, you must learn and master common phrases and common sentence structures. You must take time to learn the most common phrases and expressions that native English speaker use most in their daily lives. Don't spend hours and hours learning many individual words. Learn common phrases instead and you will be amazed how quickly you improve your English speaking.
On this website, we provide 100 common phrases and sentence Structures(or patterns) lessons . Each lesson includes audio podcast and text. Listening and practicing these lessons regularly everyday will help you improve your English speaking very fast.
English Learning Tips
Many people cannot improve their English speaking after years of learning because they learned Spoken English in the wrong way. They learn to
speak English by reading boring textbooks and grammar books. You will NEVER be able to speak English well if you are learning that way.
When it comes to English speaking skill, there are some rules and tips you must follow. These rules are totally different with the rules when you learn to read or write English. On this website, you will also learn these rules and tips .
Best English Speaking Course Reviews
Compared to Traditional English class, English speaking course has many advantages. Firstly, It's very convenient in terms of time and space. You can learn English whenever and wherever you want.
Secondly, it's less stressful than English class. Almost students often feel shy and nervous when speaking English in class. But when you are in the comfort of your own home you feel more open and confident.
Learning this way makes you improve your English speaking much faster. That is the reason why so many English learners today choose English speaking course( both online and offline course) instead of going to English class.
There are a lot of English speaking courses out there, but just a few of them are really good. On this website, we recommend you some of the best English speaking courses that really work. They are scientifically designed by experienced native English teachers. Through years, millions of people all over the world has been using these courses to improve their English speaking